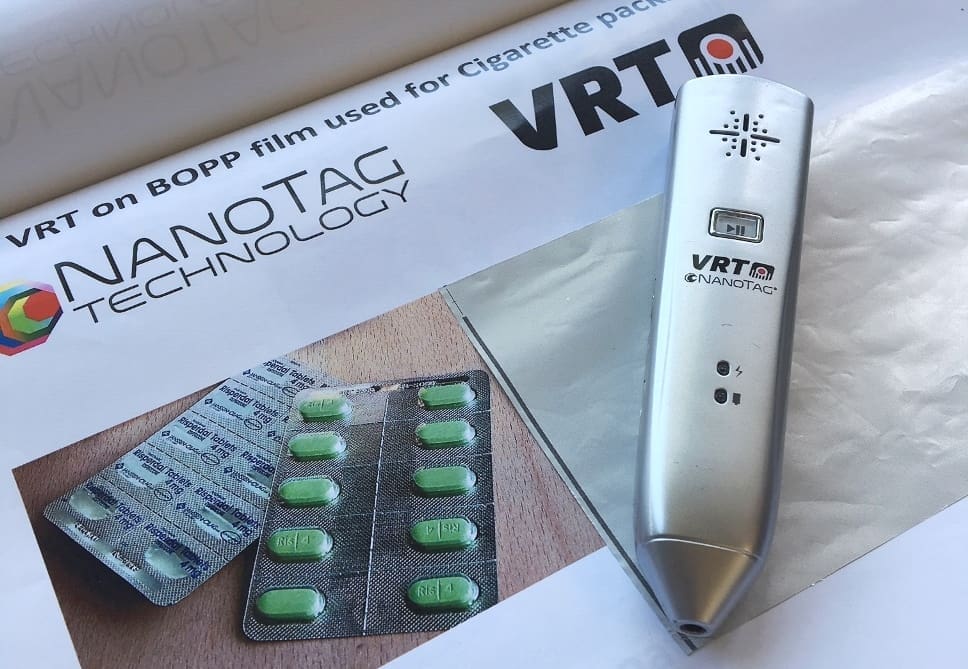 AS Australia's red meat exports have grown in volume and value into emerging markets like China, so to, has the challenge of product counterfeiting and substitution.
But some next-generation anti-counterfeit technologies are now emerging which look extremely promising in their ability to protect the integrity of genuine Australian red meat in export markets.
One of the companies working in this product and brand protection space is Sydney-based firm NanoTag Technology.
Founder Ian Allan has worked in the brand protection space for 20 years, developing a series of technologies to stay one step ahead of counterfeiters and brand thieves.
"The need for anti-theft and anti-counterfeit technologies has never been greater," Mr Allan told Beef Central during a visit to Brisbane this week. "Today's criminals are capable of easily reproducing consumer products and packaging materials," he said.
Earlier brand protection and identification products were based on nano-tag technology, each carrying a unique batch number. NanoTags are forensic particles embedded covertly in the product using patent applicators. The tiny tags each have a laser-etched identification code on them, almost invisible to the naked eye without the use of a microscope or magnifying tool. While nanotags have proved effective in certain applications – and are indeed still in use in areas like protecting genuine spare parts in the automotive industry – they were less compatible with requirements in the red meat industry.
Holograms and QR codes were also developed to try to protect products from substitution, but counterfeiters quickly learned how to reproduce both.
The latest anti-theft technology developed by NanoTag uses printed micro-dot systems, linked to Voice Response Technology (VRT) scanners.
"We know that most manufacturers (including red meat processors) do not want to change the packaging process, to add any new inclusions into their products. It's a trade-off between accepting the losses on counterfeiting, versus radically changing their packaging to try to protect their brand," Mr Allen said.
"Our design challenge was to come up with a secure brand protection tool that did not significantly affect the manufacturing/packaging process."
Already Nanotag is working with a number of companies in the food, wine and consumerables industries (think high-value sports footwear and items like casino gambling chips) using the new Voice Response Technology (VRT) platform.
VRT relies on a small 'pen-like' pocket reader, which uses infra-red scanning to pick-up and analyse a specific and unique micro-dot 'matrix' pattern printed on a product or its packaging material.
Each dot in the matrix is about 42 micro-metres in size (a micrometre is one one-thousandth of a millimetre), making it virtually invisible to the naked eye. A 2mm square area carrying the dot matrix appears like a soft grey printed square, but is virtually indistinguishable on the printed surface. The dot matrix can be completely hidden if required, embedded within a logo or photographic image on the packaging or carton.
In the case of beef, each carton, vacuum-pack primal bag or retail-ready pack could carry the VRT micro-dot matrix. The dot matrix can be printed onto virtually any surface, provided it can accept resolution of 600DPI.
"Often, not even the printers are aware that the code is there," Mr Allan said.
The pocket reader itself is capable of reading up to 100,000 different dot matrix code signatures. It converts each legitimate matrix code sequence into an audio message verifying the product as authentic, and can carry other product information such as pack date, batch numbers, factory of origin or other information (click on video for some examples).
Mr Allen said while the micro-dot sequence could be printed onto a plastic packaging material surface, the process was incredibly hard to forge.
"Firstly, the forger would have to find the specific encrypted pattern embedded in the dot matrix, and then produce and program a reader to read it," he said. "Commercial copiers and scanners cannot copy the VRT product. And the dot matrix sequence can be changed by the brand owner as frequently as they wish – weekly or monthly, if they want – to keep a step ahead of any counterfeit attempt," he said.
The pocket reader itself can be easily re-programmed and updated to recognise only new codes, by simply connecting it to a laptop and downloading a new set of matrix reading instructions.
The pocket scanning 'pen' itself retails for around $100, and is designed to be easily carried around by importers' and their customers' staff, allowing them to verify products quickly and easily in the storage facility, coldroom, or even on retail shelves.
The audio file it contains can carry up to 60 seconds worth of commentary about the product, as the video illustrates.
While the current level of development of the VRT technology is designed for business-to-business use (beef exporter to importer or retailer, for example), work is continuing to take the technology through to the end-consumer.
Click here to access more information on the Nanotag technology, and contact details.