LAST week, South Australian based startup Myriota launched its next generation technology into space on a satellite the size of a loaf of bread.
It will collect data from millions of IoT devices including sensors and asset trackers. The company says the technology will be a game-changer for the ag sector, giving farmers access to cost effective connectivity for certain applications.
I caught up with Tom Rayner, Myriota's Business Development Executive to learn more:
Thanks for your time Tom. To gets things started, what is Myriota?
Myriota is a satellite communications company that specialises in transmitting small amounts of data from any location on earth at ultra-low cost. And for the Australian farmer, that means we can connect all sorts of ag devices without the need for any towers, gateways or antennas at all.
So what are some of the ways it will benefit farmers?
We're working more specifically with agtech companies than farmers directly. The agtech companies will make the devices that the farmers want. We're working with the sensor and equipment manufacturers who make water tank monitors, rain gauges, weather stations or a soil moisture probe so that the farmer can get that data. But what we provide is quite specifically the low cost connectivity that they don't have access to now.
Right, so one way to think about it is that you're like the mobile network provider and the agtech business makes the hardware (like a mobile phone) that is sold to farmers?
Yes, exactly. We are a low cost connectivity provider that just works anywhere. So think of it like being able to send an SMS sized style packet of data – we're looking at only 20 byte packets – from anywhere on earth.
Speaking of anywhere on earth, tell us a bit about Myriota's satellite launch into space last week…
That was the first of our nano-satellites containing our next generation technology. We've actually had access to three for some years now, so that takes the number of satellites that we have access to, to four. This small satellite, which is about 10cm by 10cm by 30cm, is orbiting at an altitude of about 600km. The satellite moves over the north and south poles at an opposite direction to the earth's own orbit, which means it's able to go around the world in 90 minutes. This gives us global coverage; one satellite will actually cover every location on the earth at leaves four times a day!
Right, wow, that's amazing. So back on the farm, if you've got a tank sensor, you can get a reading four times a day?
Yep, at least four readings per satellite per day. But with four satellites, we get much more than that.
What's the payment option for farmers?
It will be a data plan of sorts. What that looks like for the farmer will depend on the company that's actually making the device. Some people will include connectivity as part of the upfront purchase price of the hardware or sensor. Some people will offer an ongoing subscription cost, but for most of the typical ag type applications that we're seeing at the moment, a farmer can probably expect a monthly cost of five dollars or less.
So if I've got 10 tanks, that's 50 bucks a month?
Correct.
What's one of the biggest pain points Myriota is addressing for ag?
The thing that we're opening up is a communications technology that doesn't rely on any ground-based infrastructure at all. So if agtech companies are using our service, as long as they can see the sky, they can connect. So the ability to be able to roll-out product without having to worry about whether you're in range of 3G or 4G other wireless technology is a game changer, especially at that price point.
So what's next for Myriota?
We're working with dozens of agtech companies now to release a commercial product in 2019. In three year's time we want to be the global leader in the internet of things  or 'IoT' satellite connectivity; our platform and technology can support hundreds of millions of devices out there across agtech, logistics, defence, maritime and so on.
But there's no doubt that agtech is a big industry vertical for us because there's so much low hanging fruit and so much need for this connectivity. Our medium term plan is to have dozens of these satellites up there, so there's always one overhead. And there'll be more launches announced for 2019 coming up pretty soon.
In time, Myriota will start promoting the companies that are creating products using its service. Readers can learn more and keep up to date via their website.
About Sam Trethewey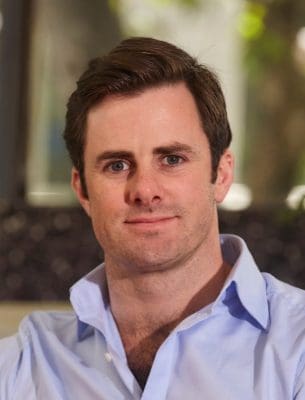 Sam Trethewey is from a farming family and has worked across Australia and overseas on most major commodities including beef, wool, lamb and cropping. He co-founded SproutX, Australia's first and largest agtech accelerator and investment fund where he spent nearly three years developing an ecosystem of support for agtech startups. He has been a regular commentator on agriculture through print, radio and online and has recently started his own food production company whilst also working as Head of Brand for Redhanded, a rural and regional communications specialist.
Questions? If you've got an agtech topic you'd like Sam to tackle, please email [email protected]
This is the final Agtech Central report for 2018. Reports will return later in January