WE may not be able to take metropolitan Australia to the bush to improve urban understanding of how Australian agriculture operates, but thanks to virtual reality and 3D camera technology, we can take the country to the city.
On the second National Agriculture Day, Federal Agriculture Minister David Littleproud told this morning's Meat & Livestock Australia annual general meeting in Canberra that changing social dynamics meant it was more important than ever for Australian agriculture to communicate its world-leading standards.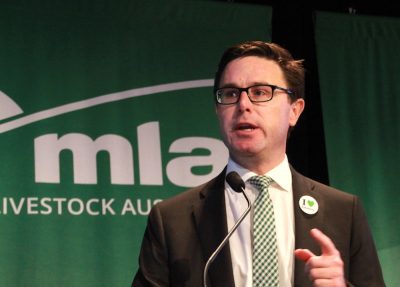 "We have to understand the dynamics of this nation are changing," he said.
"30 or 40 years ago most people in metropolitan Australia had an uncle or an aunt or cousin living in the bush, they came out and saw what we did, they don't now.
"So it is important we engage, it is important for everyone to understand that we produce the most environmentally friendly and ethically sustainable food and fibre in the world, we are the very best, and no one should ever forget it.
"Whether you are directly a farmer or you are in a support service to agriculture, be loud and proud and make sure everybody in metropolitan Australia understands exactly what we do and how we do it.
"Because if we don't, we will get Governments that impose a social will on us that is ignorant, that is ignorant to our values, our values as primary producers and the agricultural sector.
"So we need to make sure we educate and articulate exactly what we are doing and how we do it every day of the week."
How to do that?
Following his speech the Minister received a first hand demonstration of the powerful role technology can play in helping urban consumers to understand the high standards and integrity systems that underpin Australian livestock production.
After releasing the Australian beef "Paddock to Plate" experience earlier this year, MLA this morning launched the Australian lamb version.
If you haven't yet had the opportunity to experience this "360 degree immersion" on MLA's Paddock to Plate bus for yourself, do yourself a favour and find out where the coach is heading your way next so you can.
Sitting on a stool on the Paddock to Plate coach, visitors don VR headsets and headphones and are immediately transported on a journey in an all-but-real life experience of an Australian sheep farm and the supply chain through to processing, and end market butchers.
The idea of using virtual reality and 360 degree camera technology to bring an agricultural supply chain to the masses was demonstrated by Livecorp at the 2017 Northern Territory Cattleman's Association annual meeting in Darwin (see story here).
Mr Littleproud also used his address to the MLA annual general meeting in Canberra this morning to outline steps being made to increase accountability in the livestock export trade – "we do it better than anyone else but if you do the wrong thing you will swing" – to ensure the national community could have confidence Australian animals were treated in an ethical and sustainable way.
He praised the leadership role MLA had taken in setting a course for the red meat sector to achieve carbon neutrality by 2030.
"I'm proud to say MLA has done a great job and I am going to continue to invest in R&D," he said.
He said the Government was working to encourage more commercial investment in rural research and development and to attract more people into agricultural career pathways. Government work to secure trade agreements trade agreements such as the TPP would deliver a $15.4 billion benefit to the Australian economy.
To further improve market access, he said the coalition Government has invested in placing a further six agricultural counsellors into embassies and high commissions around the world, adding to 16 who are focused daily on improving market access and breakdown technical barriers.
Two of the new positions will be placed for the first time in South America, to focus on opening up export opportunities for Australian product into that region.