What's the latest in the farm machinery world?
K-Line Ag sold to CNH
New Holland acquires ATI Track System
RDO Equipment takes over Vanderfield
Agritechnica tractor of year: Fendt Vario
Agritechnica silver medal: Vaderstad high speed planter
Agritechnica machine of year awards: Claas
Agritechnica release: Amazone SmartSpray
Smooth sailing with new vertical iHSD
New 6M Series tractors for John Deere
CEA wins global dealer award
JD launches next-gen sprayers
Echuca takes on Miller sprayer range
TMA to meet in Melbourne
Three brands together for the first time
………………………………………………………………………………………………………………………………………………………
K-Line Ag sold to CNH
CENTRAL West New South Wales agricultural business K-Line Ag has been sold to global giant CNH Industrial, highlighting the potential for homegrown businesses to make their mark on the international stage.
The Cowra-based firm develops and manufactures high-performance tillage and residue management equipment, and came to the attention of CNH Industrial for its efforts in the areas of sustainability and soil protection.
K-Line Ag was founded in 1993 by Richard Larsen after he saw an opening in the market for a broader, more efficient range of tillage machinery.
Since then K-Line Ag has pioneered the production of high-performance tillage and residue management equipment such as the company's revolutionary Speedtiller a dual-purpose disc-tillage machine praised for its soil conditioning capabilities with superior penetration.
CNH Industrial managing director – agriculture, Australia and New Zealand, Brandon Stannet, said CNH Industrial was excited to be making this level of investment in an Australian company whose reputation for excellence and results was known around the world.
"We're proud to bring K-Line Ag into the CNH Industrial agriculture stable and know that together we can continue to raise the bar with equipment that satisfies the needs of farmers looking for sustainable farming solutions that don't compromise on efficiency and productivity," he said.
Mr Stannet said K-Line Ag products would continue to be sold under that name in Australia and New Zealand through existing Case IH, New Holland and selected independent dealers, and will be re-branded as Case IH in the North American market, where K-Line Ag equipment has been sold since 2013.
The manufacturing of K-Line Ag products like the Speedtiller will remain in Cowra, with plans to ramp up production and increase the number of units produced each month, which may mean the need for more staff in the future.
The Larsen family will also remain heavily involved in strategy and day to day management of the business.
………………………………………..
New Holland acquires ATI Track System
CNH INDUSTRIAL's acquisition of ATI Inc, a global manufacturer of rubber track systems for high horsepower tractors and combine harvesters, will provide New Holland customers with access to factory-fit industry-leading track technology, extending the available range and enabling them to tailor their choice based on their specific floatation, suspension and traction requirements.
ATI Track Systems' track technology provides leading-edge suspension, high-speed transport performance, durability and high productivity on rough terrain while minimizing compaction and maximizing traction in wet harvest conditions.
This acquisition includes ATI Track Systems' engineering and manufacturing plant at Mt Vernon in Indiana in the United States.
ATI Inc was established in 1997 and initially specialised in rubber tracks used for seismic exploration on Alaska's North Slope, following which the company extended this technology to a range of agricultural tracks.
Through CNH Industrial's long-standing commercial supply agreement with ATI Track Systems, which dates back to 2012, tracks are currently fitted to the New Holland T9 articulated tractor range.
New Holland product segment manager – broadacre, Australia and New Zealand, Marc Smith, said it was exciting news for New Holland in Australia.
"We released the SmartTrax II option for T9 4-wheel drive tractors in 2018. The performance and acceptance of this track system has been very encouraging and we look forward to the benefits and future developments of bringing ATI inhouse," he said.
………………………………………..
RDO Equipment takes over Vanderfield
UNITED States-based machinery dealer, RDO Equipment, has consolidated its Australian holdings with the acquisition of large-scale, Toowoomba-based dealer, Vanderfield.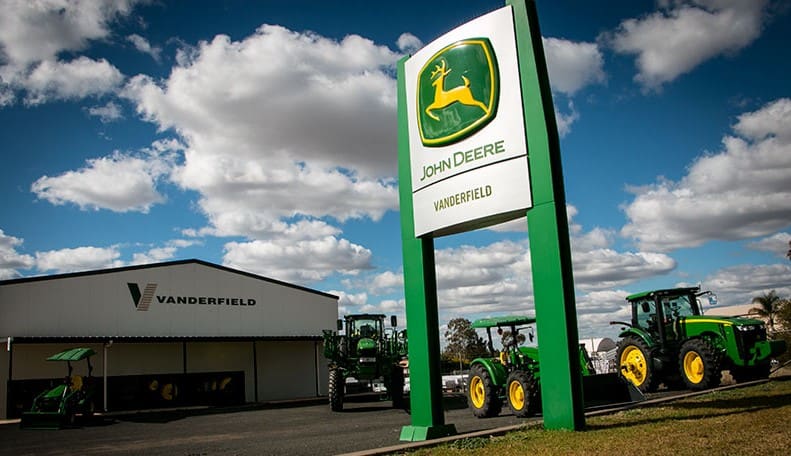 RDO, which is based at Fargo in North Dakota, is the world's largest John Deere dealer with more than 90 outlets in the US, plus holdings in Australia, Mexico, Africa, Russia and the Ukraine.
The company became an investor in Vanderfield in 2012.
Under the recent acquisition, it will retain the Vanderfield brand and continue the current business model.
Vanderfield chief executive officer, Bruce Vandersee, will step down from the position and become a director and shareholder of the RDO Australia group.
Vanderfield was established by Gordon Vandersee in 1963. It has grown to become one of the largest agricultural machinery and truck dealerships in Australia.
It was one of the first dealers to bring cotton pickers in to Australia and, since 1996, has been acknowledged as the largest individual John Deere dealer in Australia.
…………………………………………
Agritechnica tractor of year: Fendt Vario
AGCO had plenty of reasons to celebrate at the Agritechnica machinery exhibition in Germany in November.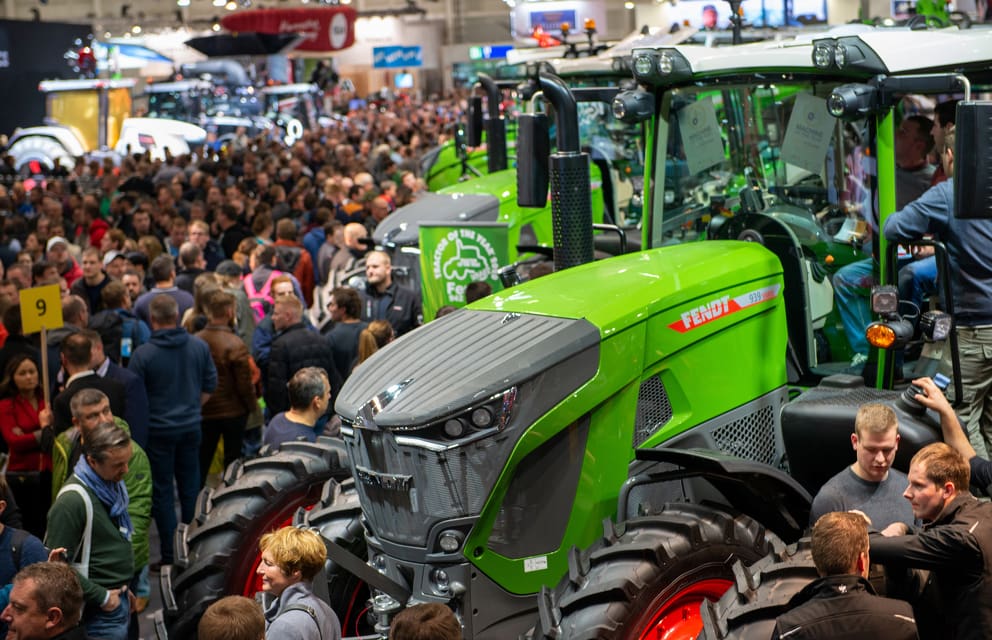 Not only was the Fendt 942 Vario named tractor of the year, the company also picked up best utility tractor for the Fendt 314 Vario along with two silver medals for machinery innovation.
Unveiled to the Australian market earlier this year at Gunnedah's AgQuip, the Fendt 942 Vario is the 6th generation of the company's 900 series.
Judges of the award commended the Fendt 942 Vario specifically for its telematic connectivity, MAN engine and its low-speed Fendt iD system which aims to manage torque and fuel consumption at low speeds.
Fendt product manager for Australia and New Zealand Donny Cloney said the company was incredibly proud of the achievement.
"To be recognised by such a well-respected and prestigious show reflects the outstanding engineering that was put into the development of this new generation of Fendt 900 tractors," he said.
AGCO also picked up two Agritechnica silver medals for innovation this year, the first for an automated tractor and implement control system, developed by Fendt in conjunction with implement manufacturer Braun.
The second was for the AGCO Ideal Drive steering system, integrated into the manufactures cross-platform Ideal harvesters.
………………………………………..
Agritechnica silver medal: Vaderstad high speed planter
SWEDISH cultivation and seeding specialist, Väderstad, has won an Agritechnica Innovation Award silver medal for a new hydraulically-adjustable row spacing system found on its Tempo high speed planter.
CLAAS Harvest Centre product manager – Väderstad, Murray Tuck, said the WideLining system automatically adjusted the row spacing to create two 1050-millimetre wide tracks.
"Instead of shutting off row units to prepare tramlines to allow wide-tyred implements to pass through standing crops later in the season, the WideLining system changes the row spacing instead," he said.
"The spacing between the four row units next to the tramlines automatically decreases from 750mm to 600mm, which has no impact on yield potential."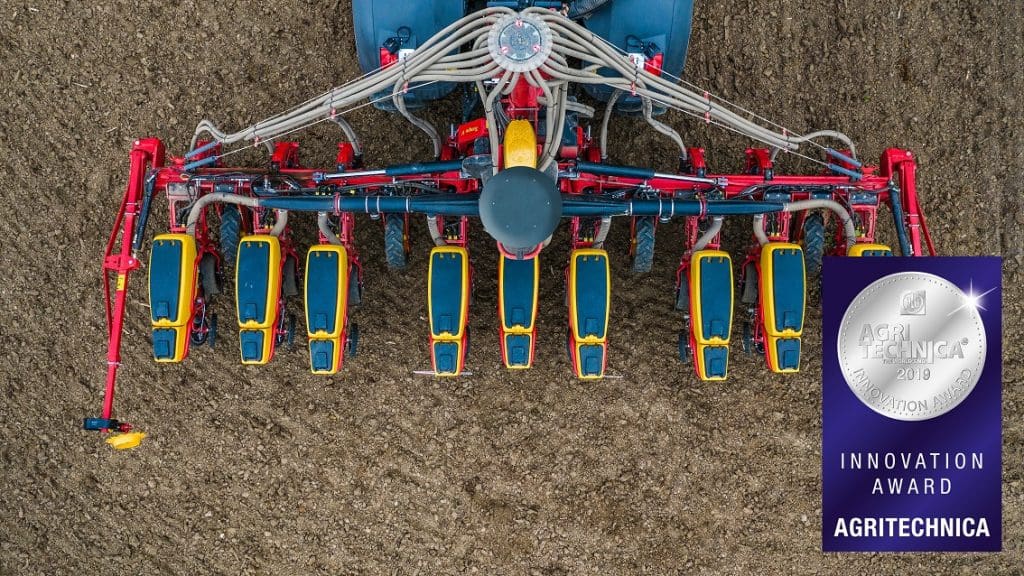 …………………………………………..
Agritechnica machine of year awards: Claas
CLAAS has picked up three 'Machine of the Year' awards at this year's Agritechnica for its new Lexion 8000/7000 combine harvester, Jaguar 990 forage harvester and DataConnect interface.
Available in five models from 344kW to 590kW (461 to 790hp), the Lexion 8000/7000 harvesters feature APS Synflow Hybrid threshing systems, and Dynamic Power and Dynamic Cooling engine management systems.
The new Jaguar 990 forage harvester also establishes new performance benchmarks.
Available with Terra Trac crawler tracks for improved traction and comfort, it features a 24 litre, V12 MAN engine that delivers 690kW (925hp).
It now incorporates Cemos Auto Performance, which regulates the engine speed to maintain a constant ground speed according to harvesting conditions.
Developed in cooperation with 365FarmNet, Claas, John Deere and CNH Industrial, DataConnect enables mixed fleet operators to monitor machine information using their system of choice.
…………………………………………..
Agritechnia release: Amazone SmartSpray
AMAZONE has released its SmartSprayer concept at this year's Agritechnica exhibition in Germany.
The company claims the new system can automatically identify weeds in crops, make a tailored application decision and then apply a highly targeted spray to individual weeds while moving at 12 kilometres/hour.
CLAAS Harvest Centre product manager – Amazone, Craig Hopkins, said the technology could deliver potential savings of between 20 and 60 per cent.
"Spot application allows for significant savings in both inputs and time, as well as significantly increasing work rates," he said.
"One spray tank can be used to treat a significantly larger area, reducing the number of refills required. It also reduces the amount of chemicals and waste entering the environment."
SmartSprayer is a collaborative project between Amazone; German electronics giant, Bosch; and digital farming solutions specialist, xarvio, which is owned by crop protection company, BASF.
Bosch sensors, mounted every 1.1 m across the boom, identify weeds. The xarvio processor makes an application decision based on weed density, the crop, timing and field-specific strategies for weed control.
Pulse-width frequency modulation (PWFM) technology, found on AMAZONE's existing AmaSpot spot spraying platform, then automatically opens and closes each valve.
"This system is incredibly accurate in all spraying conditions. Active LED lighting eliminates any potential effect of shadows, poor light or darkness," Mr Hopkins said.
"The PWFM valves open and close in milliseconds, which means that application rate of each nozzle can be independently and precisely determined.
"Set on a 25cm spacing, the SpotFan 40-03 nozzles have a spraying angle of just 40 degrees to minimise overlap."
…………………………………………..
Smooth sailing with new vertical iHSD
WITH harvest in full swing in Western Australia's central and northern wheatbelt areas, the first commercial units of the new version of the Integrated Harrington Seed Destructor (iHSD) are making their mark.
The latest vertical, mechanical-drive system uses the same mill set as the hydraulic version, with independent testing confirming up to 99 per cent plus kill rates of targeted weed seeds at various harvester speeds.
Invented by WA grower Ray Harrington and developed by UniSA with investment from GRDC, the iHSD has undergone continuing development by DeBruin Engineering, together with national distributor, McIntosh Distribution.
McIntosh Distribution's Johnny Inferrera said about 90 units would be operating in WA over harvest.
He said the new vertical iHSD could be fitted to later model John Deere, Case IH and New Holland harvesters, with no permanent modifications required.
……………………………………..
New 6M Series tractors for John Deere
JOHN Deere has developed a completely new 6M Series tractor range, replacing the previous 6M, 6MC and 6RC Series.
The new range includes three new four-cylinder models from 67 kilowatts to 90kW (90 to 120hp), featuring a 2.4-metre wheelbase.
This is a more compact 6M Series tractor than John Deere has offered before, with the low bonnet design presenting a clear view to the front of the machine.
In addition, a slimmer steering wheel cowl and the newly designed panoramic window in the cab roof provides full visibility for loader work or operation in confined spaces.
Improved manoeuvrability is a result of the short wheelbase, which allows a tight turning circle of only 4.35m on the new four-cylinder models.
Despite their slim design, these full-frame concept tractors feature a maximum permissible gross weight of 10.45 tonnes, which means an unrivalled payload capacity in this class of up to 4.7t.
Three different gearbox options are offered on the new 6M Series. PowrQuad™ and AutoQuad™ are four-step powershift transmissions, while CommandQuad Plus offers fully automatic gear and range shifting without using the clutch.
Thanks to EcoShift, the maximum speed of 40kph is achieved at a reduced engine speed of 1590rpm.
In addition, AutoClutch means the operator can stop and restart the tractor simply by using the brake pedal.
…………………………………………..
CEA wins global dealer award
AUSTRALIAN JCB distributor, CEA, was awarded Global Dealer of the Year at JCB's annual Top 50 Dealer Conference at its new state of the art facility in Germany.
CEA chief executive officer Hylton Taylor said it was a great honour to be recognised for all the hard work the team and dealer network had been able to do in challenging market conditions.
"We pride ourselves on our focus to deliver value to our widespread customer base providing an extensive product range suitable to the Australian markets conditions and focusing on aftersales service and support', Mr Taylor said.
The awards are determined by a criteria that includes retail performance, parts and service training and support, as well as investment and development of the dealer network.
"The Global Dealer of the Year Award is an opportunity for JCB to recognise dealers who represent all of the elements that make up a successful business," JCB Sales general manager, Richard Myles, said.
"JCB would not be able to successfully grow without the continued hard work of CEA and our global dealer network and this is a great way for us to recognise their achievements."
……………………………………………
JD launches next-gen sprayers
JOHN Deere has launched its next generation of self-propelled sprayers, manufactured at the company's Horst factory in The Netherlands.
With the new R4140i 4000 L capacity and R4150i 5000 L capacity machines, engineers have further increased performance, precision, safety and operator comfort.
The R4140i is available with a choice of carbon fibre or steel booms, the R4150i is available with carbon fibre only. Both are available from 24 to 36 metre wide and continue to use John Deere's PowrSpray solution system, with direct rate control for fast filling and highly accurate application rates.
Combined with the innovative, automated AirRinse system, this reduces the solution system's dead volume to as low as five litres for maximum cleaning performance.
New for the R4140i and R4150i sprayers, ExactApply is an 'intelligent' solution that combines the ability to change spray nozzles manually from the cab or automatically depending on application rate and speed. It can also maintain droplet size while changing speed through the use of pulse width modulation (PWM) technology up to 30Hz.
The sprayers also feature a new 50 kilometres/hour transmission option.
Production has started of the John Deere R4140i and R4150i, with the first units due to arrive in Australia early in 2020.
…………………………………………….
Echuca takes on Miller sprayer range
THE Rural Group has added the Miller range of self-propelled sprayers to its Echuca Rural business on the New South Wales/Victorian border.
Echuca Rural offers a variety of major equipment brands including New Holland, Morris, Pottinger and Agri-Spread.
Echuca Rural's Dave Frazer said Miller sprayers were ideal for the variety of crops grown across the area.
"In addition to traditional broadacre crops, there are a lot more specialty crops grown in this region, including corn and maize, as well as tomatoes,'' he said.
The addition of the Miller range at Echuca Rural coincides with the manufacturer's launch this year of the latest Nitro 7000 Series sprayers in Australia.
Building on the success of the Miller Nitro 6000 Series, the latest sprayers come with features including a more powerful, fuel-efficient IVECO engine and a new cabin.
With a large tank size of 6100 litres, the new 7000 Series also offers a wide range of boom options, including the powerful Miller Spray-Air system.
……………………………………………
Three brands together for the first time
MORE than 50 Flexi-Coil, Paxton Plow and Horwood Bagshaw dealers recently convened at Tailem Bend in South Australia for the first ever business meeting for the three brands.
Flexi-Coil, Horwood Bagshaw and Paxton Plow business leader, Steve Mulder, said the two-day event, which focussed on strategy, climate trends and new products, was a big success.
"Dealers flew in from around the country to take their seat at the table and find out about the exciting times ahead for Flexi-Coil, Paxton Plow and Horwood Bagshaw and how we can help our customers farm sustainably," he said.
"With Flexi-Coil, we will continue to deliver the best in innovation from North America and with Paxton Plow and Horwood Bagshaw, we can offer growers Australian designed and manufactured products, right here in Australia."
Mr Mulder said a highlight for dealers was the opportunity to find out more about Flexi-Coil's expanding range, which Flexi-Coil's new 7200 Precision Hoe Drill, PS300 Precision Seeder and 6100 Precision Disc Drill.
Also on display was a Horwood Bagshaw 19,000-litre air seeder with two granular bins and integrated liquid tank.
The introduction of Paxton Plow, the newest addition to the Flexi-Coil range, was another highlight.
Paxton Plow's market-leading SR4 Series, SR6 Series and the new SR7 Series Soil Renovator were another drawcard.
Horwood Bagshaw's all-new Narrow Fold Scaribar, with 18m working width, impressed dealers with its under 6m transport width.
……………………………………….
TMA to meet in Melbourne
THE TRACTOR and Machinery Association (TMA) will hold its annual conference on July 21, 2020, at Hyatt Place Melbourne, Essendon Fields.
……………………………………………
Grain Central: Get our free daily cropping news straight to your inbox – Click here